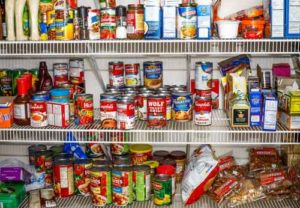 A well-stocked pantry can mean all the difference when "there is nothing to eat," you are ravenous, or your dinner plans failed and you need to pull off something great. Here are 5 canned staples you should always have on your shelves, why you should stock them, and how you can turn them into a fabulous and healthy meal.
1. Artichokes are one of the few vegetables that are delicious fresh, frozen, or canned. They are loaded with fiber, folate, and magnesium and have so few calories but offer so much satisfaction. Most people are daunted by trimming and cooking them, but opening a can is an effortless way to unleash a snack—just add a squeeze of lemon or vinaigrette. Use these canned gems to make a simple antipasto plate healthful. Add a can of artichokes to pasta with pesto. Or, drain and rinse your artichoke hearts, drizzle them with olive oil, and roast them in a metal pan at 375°F for about an hour. You will be surprised how beautifully they caramelize.
2. Beans are probably one of the most important canned goods you can stock and rotate regularly. Researchers are looking at longevity hot spots—places where people are living the longest and most healthfully—and finding that where people are living in best health, beans are an essential part of the diet. Yes, they are loaded with protein, fiber, and B vitamins, but the best thing about beans is that they come in so many varieties; it is impossible to be bored. Always rinse beans well to remove added sodium and residue. Empty a can of beans into your food processor with a spoonful of tahini or olive oil for a delicious hummus or dip. The add-ins are endless, from herbs to roasted peppers, to olives, you are only limited by your imagination. You can also use them to top your salads, stir fry, pasta dishes, and vegetables.
3. Diced tomatoes are one of those ingredients that come in handy no matter what kind of cook you are. They are loaded with lycopene, vitamins A and C, and iron. Look for the low sodium versions and add them to anything you can to bump up the nutrition. Need a meal in an instant? Defrost a box of frozen spinach and wring out the liquid, add a can of diced tomatoes, a small onion, and garbanzo beans to a microwave-safe dish, and zap for 4-6 minutes for a warming veggie stew. If you are a more ambitious cook, add a can of diced tomatoes to your soups, dried bean recipes, or under the chicken you are roasting for dinner for added intense flavor and fiber bonus.
4. Lite coconut milk can be a lifesaver because it can be used in everything from coffee to oatmeal to meat dishes. It has a sweet flavor and creamy taste that takes food from simple to special. Coconut milk has a beautiful fatty-acid profile, is well known for medium chain triglycerides and lauric acid, and is known for quick energy and weight management benefits. It is a great source of iron and is lactose-free. Swirl a couple of ounces (oz) into a tablespoon (Tbsp) of tomato paste with ginger and garlic for a great sauce for poultry or vegetables. Drop a splash into your morning coffee when you have run out of milk. Mix a 14-oz can of lite coconut milk with 5 Tbsp of chia seeds and refrigerate for 4 hours to make a chia pudding that can be topped with vanilla, pumpkin, or berries for a great breakfast treat. Store unused coconut milk in a glass or plastic container in the refrigerator.
5. Tuna is a great choice if you are in a pinch for a meal. Choose Seafoodwatch-recommended albacore or skipjack, canned in water, because they are a great source of lean protein, omega-3 fatty acids, and require no stove or refrigerator to prepare. To turn your tuna into something fantastic, steam a bag of frozen vegetables, top with tuna, and season with vinegar or lemon. You can also top a high-fiber cracker, such as Wasa with a little cream cheese, tuna, onion, and sliced tomato for a satisfying mock sandwich.
References and recommended readings
Beans: the healthy choice for every meal The Bean Institute website. (December 11, 2015)
The Benefits of Canned-Coconut Milk SFGate website. Busch S. (December 11, 2015)
Monterey Bay Aquarium Foundation website Consumer guides. (December 11, 2015)
Health and nutrition California Artichoke Advisory Board website. (December 11, 2015)
Longevity hot-spots – highest life expectancy in the world? World life Expectancy website. (December 11, 2015)
Tuna Environmental Defense Fund website. (December 11, 2015)
This article was originally written for nutrition411.com by Stacia Helfand, MEd, RDN, CDN
5 Canned Foods You Cannot Live Without